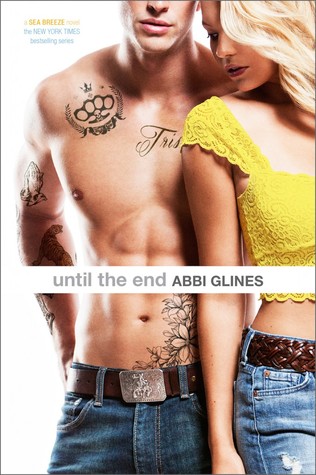 Title: Until The End (Sea Breeze #9)
Author: Abbi Glines
Publisher: Simon Pulse (October 28, 2014)
The backstory that fans have been clamoring for—how Rock and Trisha fell in love—is the final installment in the Sea Breeze series from New York Times bestselling author Abbi Glines. And don't miss the sizzling Epilogue, where Abbi wraps up all the Sea Breeze couples' stories!
Trisha Corbin always knew how to hide a bruise. With her momma's boyfriends unable to keep their hands off of her, she had no choice. And as long as it meant the guys wouldn't go near her little brother, Krit, it was worth it. But her days of dreaming that Prince Charming would ever come rescue her are far, far in the past.
Rock Taylor always had a plan. Through football, he would rise above the life he was born into. A full ride to play for a major college team was within his reach—assuming he didn't let anything get in his way. But scoring a date with the hottest girl in Sea Breeze was proving harder than expected. Trisha Corbin was every man's walking fantasy, and she wouldn't even glance his way.
When Rock finally does get Trisha in his truck, it isn't for a date. It's because he picks her up on the side of the road, beaten and bruised and walking to the local hospital. Before Rock knows it, football is no longer his life. Trisha Corbin is. And he'll do anything to save her. And keep her.
In addition to Rock and Trisha's love story, this special novel contains the wrap-up stories of all your favorite Sea Breeze couples: Sadie and Jax, Marcus and Low, Cage and Eva, Preston and Amanda, Jess and Jason, Krit and Blythe, and Dewayne and Sienna.
Excerpt-Rock, The Present
The first time I'd seen her, she had taken my breath away. Getting her attention had been one hell of a ride. She'd been so determined to stay away from me. Or any man.
Then I'd found out why… and I'd sworn to myself she'd never have to live in fear again.
Falling in love with Trisha had changed my life. My friends and family had said I was an idiot. I was throwing away my future. Butch Taylor, my father, had never been a big part of my life until I had become a high school football star. For once I had a parent who gave a shit about me. It had been something I'd craved since I was a kid. Making him proud and proving I was worth loving had been what drove me harder. My dream was within my reach. I had my father cheering me on and I would make it to college and then I knew I'd play pro ball.
Until my dream changed. The day a pair of the prettiest blue eyes I'd ever seen stared at me across the parking lot one morning before school started. It had been the first day of my sophomore year and it would be another twelve months before I was able to get Trisha Corbin to even speak to me.